Ominibus #Bookaday Post – the rest of June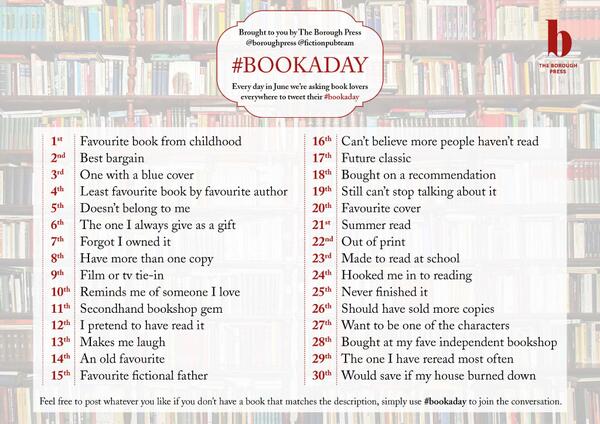 The end of term was sort of busy for me. With my last day at work rapidly approaching there were a lot of loose ends to tie off, and one of the casualties was the series of Bookaday posts. I'm not happy leaving the series incomplete, so over a month after I last did it, here's the remainder of June's books.
June 18 – Bought on a recommendation and June 19 – Still can't stop talking about it
House of Leaves by Mark Z Danielewski was a book I'd never heard of until a friend recommended it to me. For those who haven't read it, go out and find a copy. It is a book compiled by editors based on the text of a man who is reconstructing the text of someone who wrote a book about a film made about disappearances at a house. And if that sounds complicated, wait until you start reading the self-referential footnotes. The book freaked me out to read it, and that's saying something. It is on an Inception level of brain-fuckery and I heartily recommend it.
June 20 – Favourite cover
Growing up the book cover that made the greatest impression on me was this terrifying vision, from A Treasury of Gothic and Supernatural edited by Peter Haining. Just look at that, and tell me that at age 6 you wouldn't have been enthralled and traumatised at the same time!
June 21 – Summer read
Ernest Hemingway – The Collected Stories from Everyman's Library Classics. Hemingway is insanely readable, and these short stories are perfect to dip into and out of during long, lazy summer days.
June 22 – Out of print
Rather than select a book which is out of print, I'd like to nominate something that ought to be out of print. The entire 50 Shades trilogy. It commits the grievous sins of being poorly-written fan fiction of a poorly-written book series. And has spawned a whole slew of imitators, with the risk that like a copy of a copy of a copy, they'll have even poorer writing.
June 23 – Made to read at school
I spent the entire summer between my fifth and sixth years in high school reading Jane Austen as we would be studying her works in Sixth Year Studies English. First day back, our teacher had gone on sabbatical, and the teacher taking over decided we'd read some Thomas Hardy, starting with Tess of the d'Urbervilles. I read it, and it is one of the reasons I quite English that year!
June 24 – Hooked me into reading
The very first post in this series looked at the spooky book which was my childhood favourite. I then go on to mention Lovecraft, Jack the Ripper, The Night Watch and earlier in this post House of Leaves and A Treasury of Gothic and Supernatural. Needless to say, strange and eerie things interest me, and that had a lot to do with my parents buying strange and eerie books for us.
And not always intentionally. We had two books of fairy tales, Brothers Grimm Folk Tales and Hans Andersen's Fairy Tales, both illustrated by Michael Foreman. The illustrations are striking. Grotesque. Horrific. Amusing. Compelling. They brought to life fairy tales which were not the sanitised Disney versions. Children were chopped to pieces. Heroes blinded and torn by thorns. Devils and Godfather Death stalked the land. The Little Mermaid dissolved into froth, the Wicked Stepmother danced to death in red-hot shoes, the old fisherman lived in a pisspot and made deals with chthonic deities, an early taste of the Lovecraftian. Fearsome beasts had eyes as big as dinner plates and illustrations to match. The pictures fascinated, helped me pay attention when the stories were read to me, and encouraged me to revisit the books over and over as I learned to read.
June 25 – Never finished it
With more books to read than time available, I've had to become ruthless. If a book doesn't hook me by the fourth chapter then I stop reading it. Why force myself through books I'm simply not getting just to say that I've read them? Northanger Abbey by Jane Austen is the novel that caused me to institute that rule. I think I got half-way through when I realised I was reading it solely to finish reading it, and not out of any pleasure. I found it dull and struggled to keep my attention on it, until the desire to have it finished was overtaken by the pain of actually having to read it. Well done Northanger Abbey, you broke me!
June 26 – Should have sold more copies
If I may be so bold and uncouth as to slip some advertising in here? Chinese Whisperings: The Red Book should have sold way more… Hell, ALL the eMergent titles should have!
June 27 – Want to be one of the characters
I don't want to be any one specific character from Sergei Lukyanenko's The Night Watch, but I'd love to be in that world of using the gloom, of magic and science mixed together, the strange and shifting allegiances of two equally matched magical forces.
June 28 – Bought at my fave independent bookstore
Not so much an independent bookstore as an independent publisher. Through Salt Publishing I discovered Third Class Superhero by Charles Yu, a gem of a short story collection with a number of stories that I sorely wish I had written!
June 29 – The one I have reread most often
In the strange and twisting journey that took me from Catholicism to atheism I flirted with a number of thought systems and religions, becoming particularly fascinated by Easter religious philosophies like Taoism. And what great wise man from the Orient first introduced me to this? A Bear of Very Little Brain in the form of The Tao of Pooh & The Te of Piglet by Benjamin Hoff. Two books combined in one, this was the title that really kicked off the "all religions and philosophies explained via Winnie the Pooh" cottage industry which saw the characters from the Hundred Acre Woods move on to look at mysticism, philosophy and psychology.
June 30 – Would save if my house burned down
Without a shadow of a doubt The Great Works of Edgar Allan Poe from Chatham River Press, a gorgeous leather-bound edition of all of Poe's stories and poems. This is the second copy of this particular volume I've owned, as the previous copy (and indeed all volumes of Poe I've ever had) mysteriously disappeared. So although I'd save it, I'm not 100% sure it wouldn't also prove to be the source of the fire…