What I do when I'm not writing…
My brother has just posted his review of the year, and I noticed a couple of photos there that I thought I might repost here, as I forgot all about them.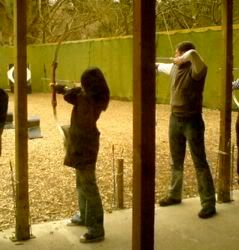 For only the second time in my life I am using a bow and arrow, and again proving quite good at it…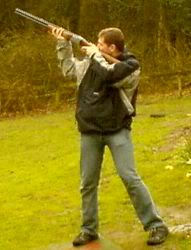 And this is the first time I've gone shooting. Thankfully for the safety of everyone concerned, it was laser shooting. I can't hit a moving target to save my life. I'm deadly when shooting at stationery objects, but as soon as you move, I'm useless!
What has this to do with writing? The photos were taken at Centerparcs, Longleat where I was on a mini-break. To quote from my brother's blog:
When I told an American friend we were going to a woodland-bound resort for some falconry, archery, fencing and so on, he thought it sounded like a Bond villain training camp.
Whilst there I came up with an idea for another story, something which is still at the rough ideas stage, but which directly draws on the high strangeness witnessed that week.
Of course, at some point I should try to get one story written, before coming up with ideas for others!